OFFICIAL BAD HABIT & MAYHEM SWAG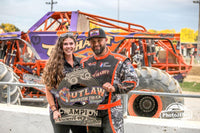 Message from Joe:
"I DID IT ALL FOR YOU!"
With the sudden news of my retirement from driving Monster Trucks, I have had alot of questions as to what prompted my decision. To many it came as a shock, but those closest to me know it has been a decision that I have taken the better part of a year to contemplate.
.
There are several factors that lead me to make this choice and I want to make it very clear that THIS WAS 100% MY CHOICE. I wanted to go out on my terms while I was still performing well and not wait until my performances for the fans started to suffer. 
.
For the past 18 years of my life, I have lived in Fast Forward. Extremely HARD LIVING that would equate to living 2 years compared to most people's 1. In the words of Def Leppard; "Its better to burn out than fade away."
30-40 weeks a year on the road takes its toll on you mentally, physically, and emotionally.  My lifestyle prior to my 18 years in Monster Trucks was just as rough. I traveled and raced at a high level in downhill mountain bike racing followed by a short career in FMX. From the time I was 12 years old until I was 22, these sports were my life and all I ever wanted to do. Severe injuries, however, plagued my chances of ever seeing the Xgames stage and I knew if I didnt make a change, I might not live to see 25. At 22, I made the decision to get a cage around me and go monster truckin. However, the monster trucks aggravate every one of my previous injuries and it has now gotten to the point where I just can't take the hits like I used to. Every weekend is like being in a car crash for me and then I also get behind the wheel of an 18 wheeler and drive all night home or to the next venue which is also very taxing on me.
.
The final reason is simply that I feel accomplished with the things I have done both behind the wheel of a monster and as a Team Owner. I have reached every goal I set for myself as a young 22 year old punk rock kid and then some. I am ready for a new challenge and that comes im several forms. One, is that I intend to continue growing the @outlawmonstertruckdrags and bring back TRUE LEGIT RACING to our sport. I will also be taking on an active role in growing my family businesses. One that I have never spent much time around because my focus was always racing. Speaking of RACING, I may be taking a little time off from that as I dedicate myself to growing my businesses so that I can one day afford to go race at a high level on my own dime and not be concerned with the race car being what pays for the roof over my head. I cant exactly say what it is that I will be racing, but I promise when the time comes that it will be SPECTACULAR!
.
I will leave you all with this, of ALL the achievements I have had over my career, none give me as much satisfaction as the fans and friends I have made along the way. I truly am grateful to be able to go out and perform in ways that allow people to take their mind off whatever they have going on in their lives and just enjoy a good show.